Life is full of choices; from the monotonous and mundane to the rare and complex. This is unmistakably apparent when it comes to renovating your home, especially your kitchen.
Renovating your kitchen is no small undertaking, even when hiring a contractor. Your kitchen's new style, countertop, colours, features, sink, faucet, lighting, and styling are all questions that need to be answered before the work even begins. With so many decisions to make, it can quickly become overwhelming. Which is why we've taken the time to help educate you on your options so that you can make the right decision for you. For the sake of time, this article will only be focusing on countertops.
Easily one of the most expensive items in a kitchen, countertops come in a vast array of materials, patterns, and colour options, with each presenting their own strengths and weaknesses. With so many options to consider, it's critical to be informed so that you can decide which factors matter the most to you. Having said that, here are the top 4 countertop options that you should know for 2021.
Laminate
Originating in the 1940s as a substitute for wood and stone surfaces, laminate countertops reached their peak popularity in the 1950s and 1960s as an affordable countertop option for many homeowners. While once regarded as inexpensive, laminate countertops have come a long way since then and offer consumers a great product at a cost-effective price.
Available in a vast array of colour and style choices, laminate is one of the most flexible options as it comes in a wide assortment of colours and style options, allowing you to easily match with any space or style.
The original and most popular manufacturer of laminate countertops is Formica, but there are also other laminate suppliers that offer solid products at competitive prices. A few downsides to keep in mind with laminate is that it doesn't hold up well to heat (make sure to lay a towel out before setting a hot pot or pan down!) and can be quite difficult to repair. However, if you're looking for a solid product that looks great and comes in at an affordable price, then a laminate countertop might be the perfect fit!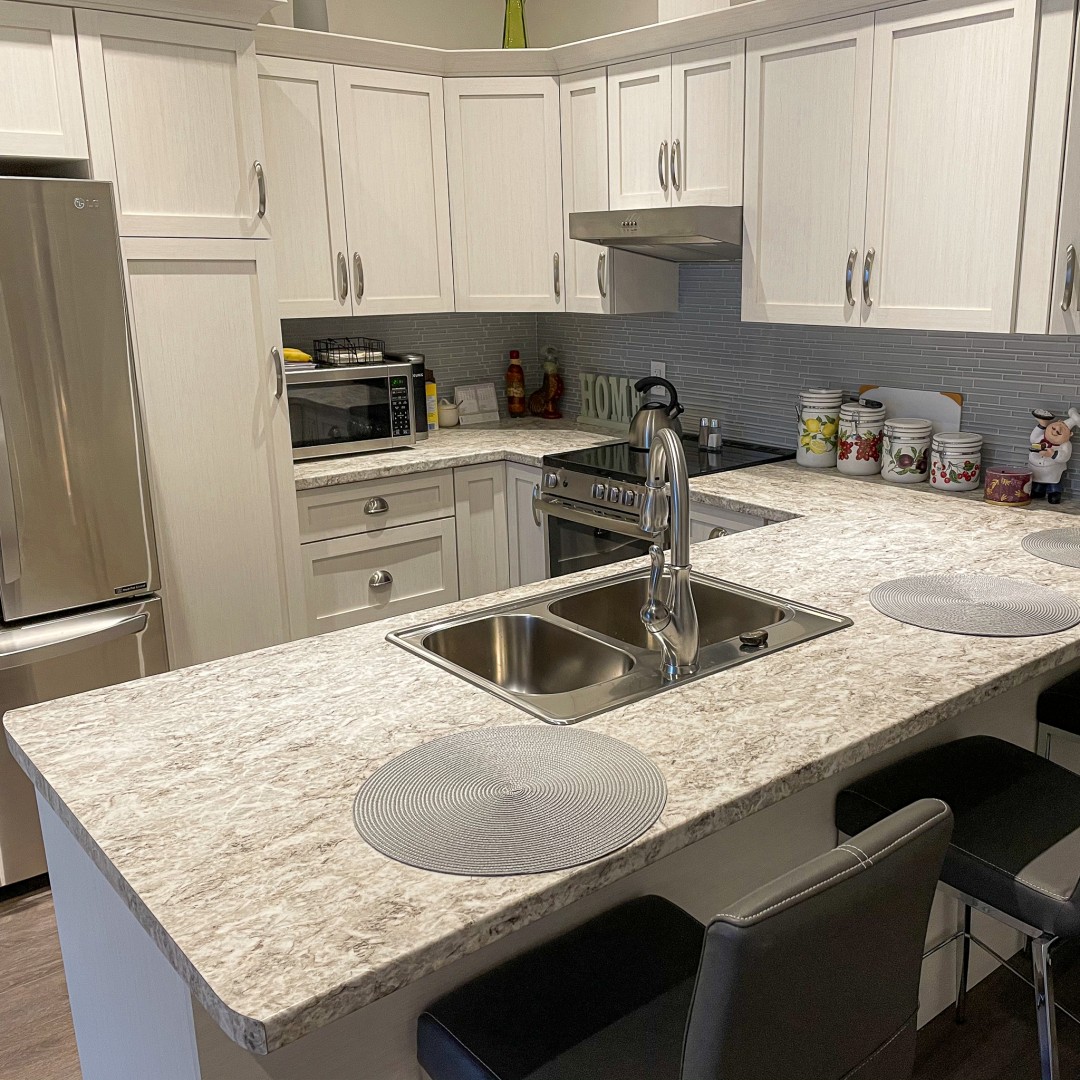 Solid surface
Having been around for over 50 years, solid surface is a suitable step-up for those looking for something more durable than laminate. Quite indicative of its name, solid surface countertops were created out of the desire to have one, homogenous product that's structure would remain the same throughout.
A primary benefit of this desire is that solid surface's scratches and stains can be easily removed with just a bit of light sanding. In fact, one of its flagship benefits is that you can resurface an existing piece with just a basic orbital sander! Not only that, but solid surface countertops can seamlessly integrate with your backsplash and sink, creating a uniform aesthetic. Frequent spillers and mess-makers will also be pleased to know that solid surface products are almost as non-porous as any other product available.
While offering plenty of benefits, these countertops are sensitive to heat and scratching. Meaning that you'll need to be conscious of what you're placing on your counters to avoid damage (just remember, these can be fixed). As a rule of thumb, any pot or pan hotter than 250 Fahrenheit should not be placed directly on the counter. Regardless, solid surface countertops offer a quality option that packs plenty of benefits at a very reasonable price.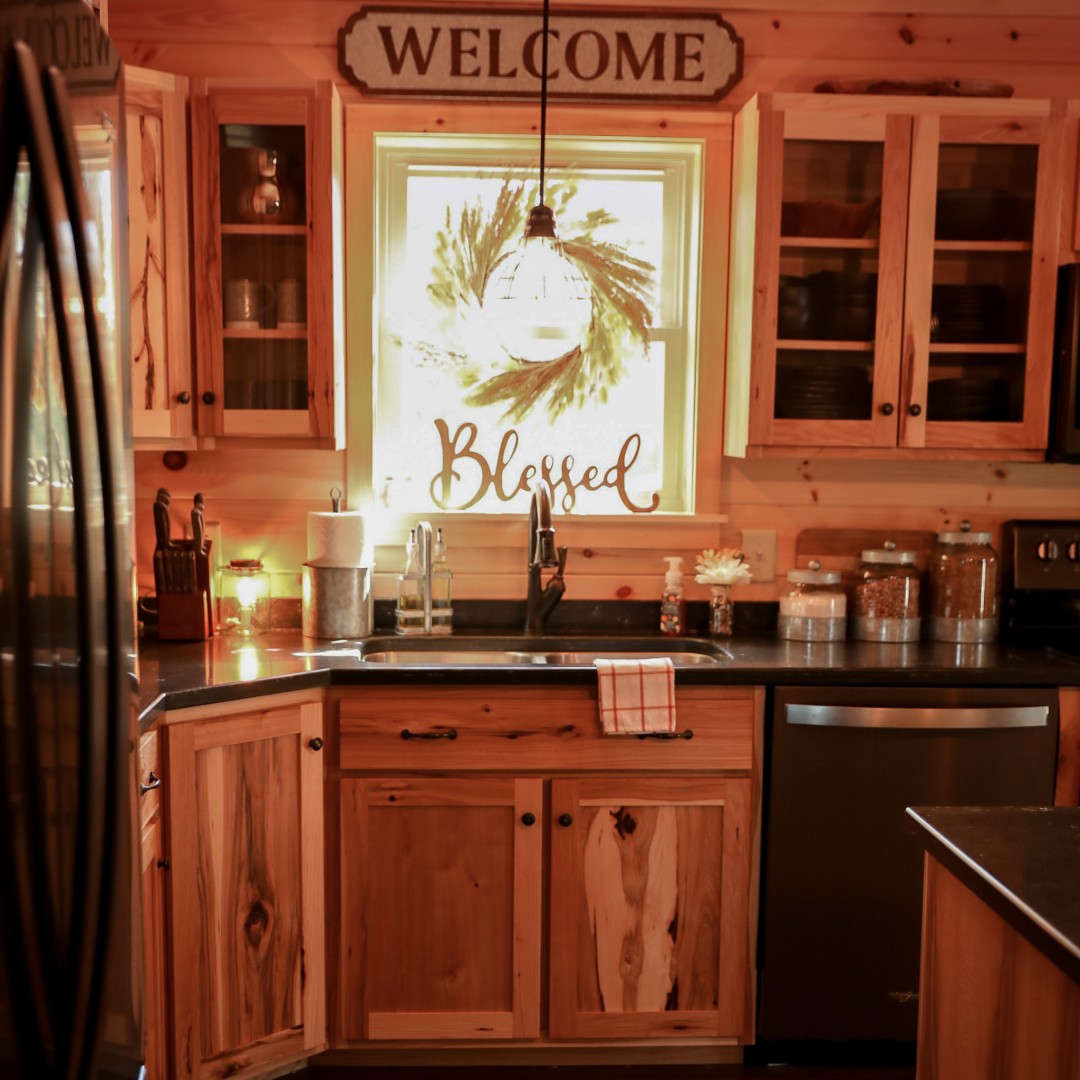 Granite
When asked to give an example of a high-end countertop, most turn to 'granite' right away, and with good reason. Granite has long been considered the gold standard when it comes to top-quality countertop options.
Granite holds the unique distinction of being mined from the earth, meaning that they are a near natural, high quality product. This also means that no two granite countertops are the same either as each slab has its own natural preset of colours and patterns. Not only do they look stunning, but granite countertops are extremely resistant to heat and scratches, meaning you can place hot plates, pots, and pans on the surface with complete peace of mind.
Like with anything, there are several drawbacks to consider. Since granite is a porous rock, it requires frequent sealing to ensure dirt and bacteria do not set in (for more info on granite countertop maintenance, we recommend that you consult with your kitchen/countertop supplier). Furthermore, granite can be prone to cracking in rare cases, which usually requires a certified specialist to come and correct the issue. Also, granite countertops are easily one of the most expensive options available since it is mined from the earth. So, if you're looking for a unique look, don't mind a little upkeep, and money is not a concern, then granite might be your perfect match!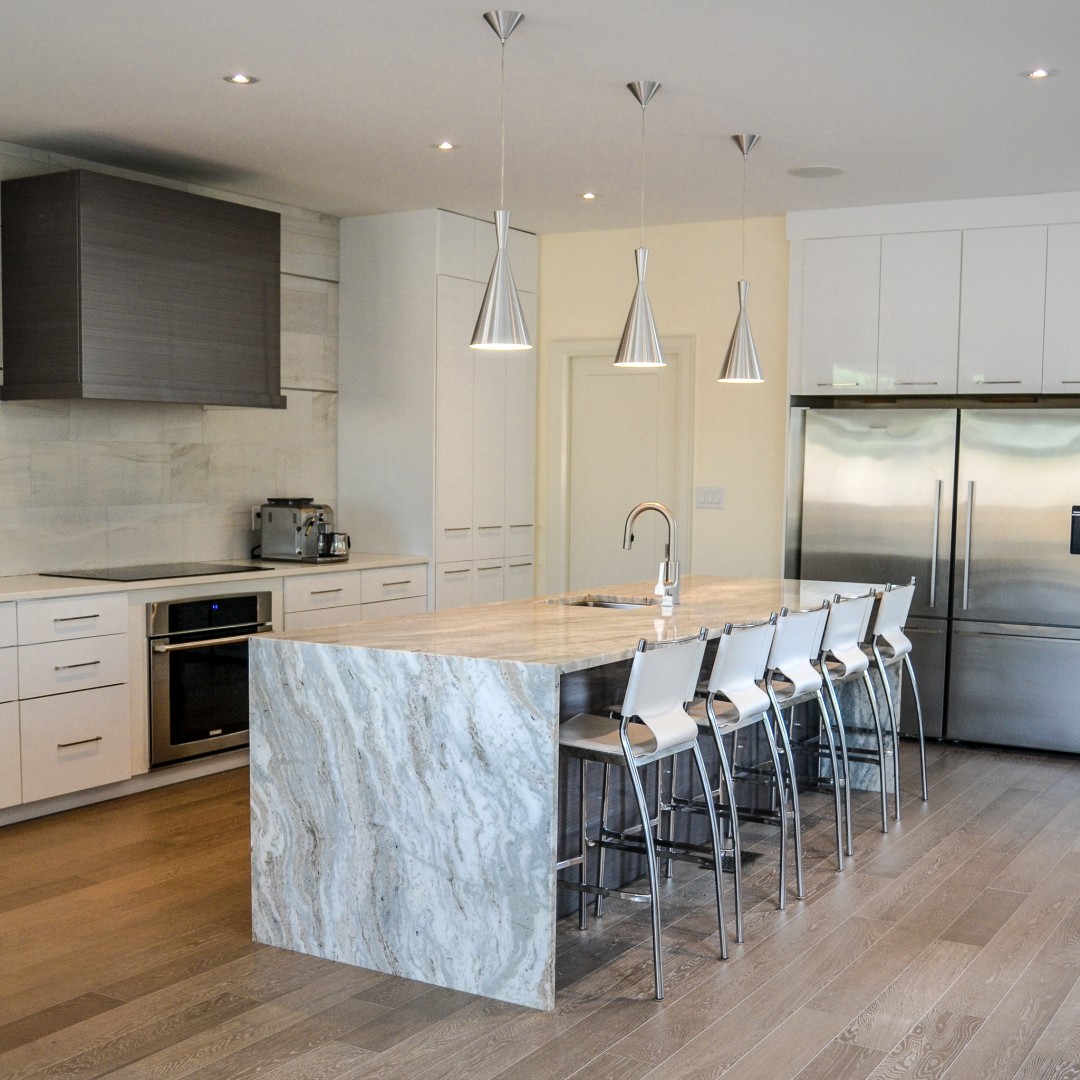 Quartz
Last (but certainly not least) we have quartz. Quartz countertops have become incredibly popular as a top-tier choice and it's not hard to see why. Engineered quartz offers plenty of advantages that natural stones simply do not possess.
Quartz countertops are made by mining quartz crystals which are then ground up and fused with resins under intense heat and pressure, thus creating a solid slab. For this reason, quartz can come in a wide variety of colours and patterns, allowing customers to select a countertop that perfectly matches their décor. However, the biggest benefit of quartz is that it's non-porous, meaning that a protective seal (like the ones applied on granite countertops) do not have to be applied. Also, because it's been engineered and modified, quartz does not chip or crack easily, unlike other stone counterparts.
Like all good things, there are some downsides to consider. Quartz isn't as resistant to heat as granite, although it's still quite resilient. Also (and this may be seen by some as subjective bias), some consumers prefer the more subtle patterns of a completely natural stone (i.e., granite). Lastly, quartz countertops are a high-ticket item, which means that a heftier price tag usually comes with it. However, it's important to know that quartz countertops come in a wide variety of grades. This means that there are far more options and price points than many realize. However, as a rule of thumb, know that the lower the price…the lower the grade.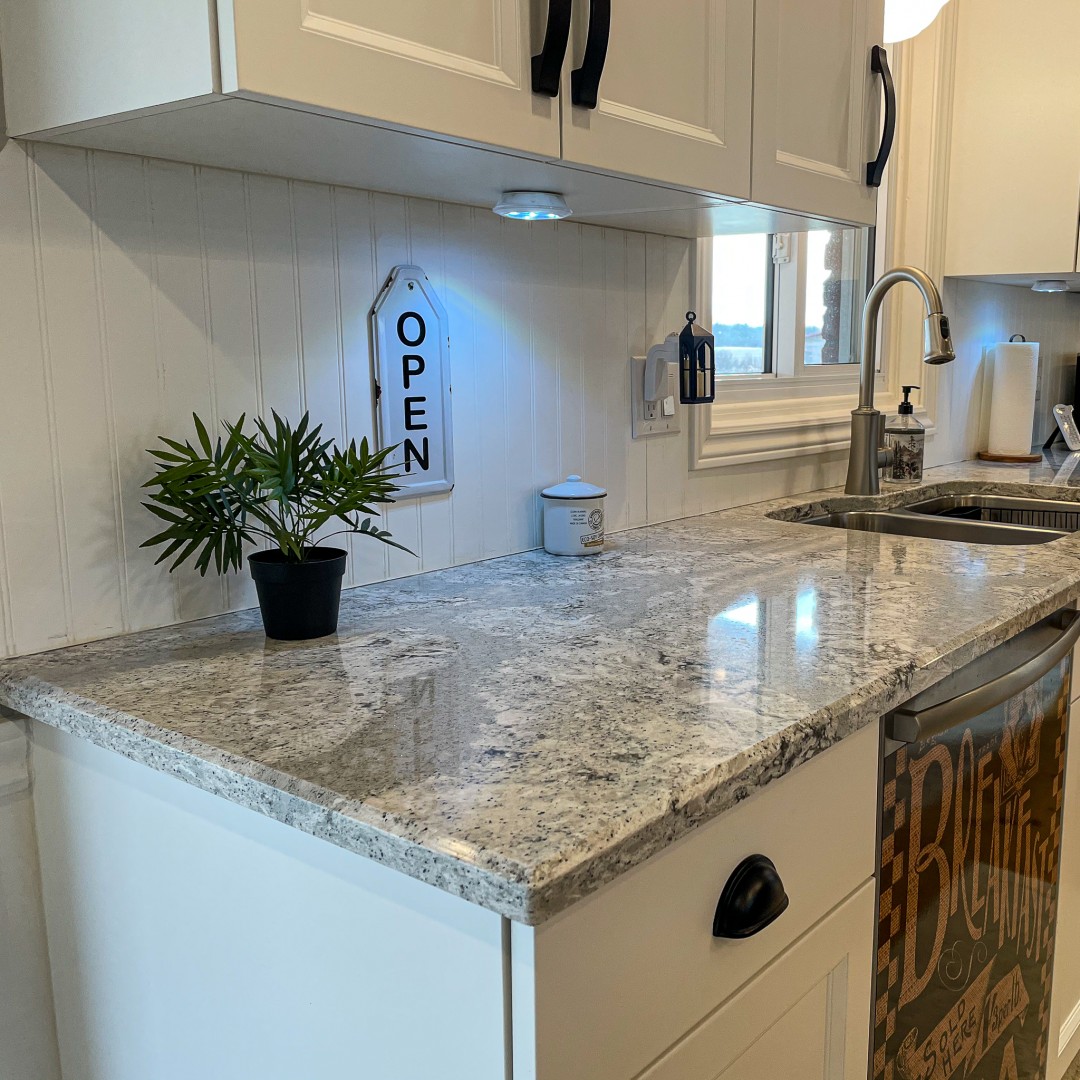 ---
And there you have it! The top 4 countertop options that you should know in 2021. Do you have a question about a countertop option that wasn't mentioned? Don't be afraid to ask! Here at Canaan, we've supplied, manufactured, and installed a wide variety of countertop materials over the years. Get in touch today and we'd be happy to help you!